Relics from a bygone era. Treasures from decades past. Whatever you call them, we have become a culture obsessed with all things vintage. I am an unapologetic member of this culture; an aging hipster who still gleefully snaps up Don Ho vinyl records, Pyrex bowls, and English bone china teacups. Thus, I was very happy to have won a Royal Stafford June Roses teacup and saucer, as well as a Robert Gordon tea infuser from Liv Lovely, an exhibitor at the vintage fair I attended yesterday, Town and Country Vintage Market.
A Compelling Narrative
This particular prize has got me thinking, though. Why do I love vintage items so much? The vast majority of the retro and vintage ephemera I've collected over the years were made decades before I graced the planet with my presence. Therefore, I can't claim it's any sort of nostalgia on my part. Perhaps, it's because I'm a lover of stories. And, all vintage pieces seem imbued with a mysterious narrative. I find myself asking, "Who owned this?" "What kind of journey has this piece travelled?"
In the case of the teacup and saucer I won yesterday, my online research indicates that they were probably manufactured in the 1950s, and they definitely came from England. All it takes is this nugget of knowledge and I'm picturing a young lady sipping tea with her family and watching Queen Elizabeth II's coronation.
A Different Kind of Reality
Another theory I have about my own, and indeed others', love of vintage is that it centers on the longing for a different kind of reality. Now, I'm not suggesting that I don't want to live in 2016. I certainly appreciate 21st century medical care, for example. No, it's just a temporary escape that I seek. Vintage items give this kind of escape an authenticity. I used to watch Mad Men while sipping the same kind of cocktail as Joan out of my 1960s tiki mug, for example. For a little while, I didn't have to keep checking my phone for messages or type on my laptop. Instead, I could imagine a time where it was really possible to go off the grid.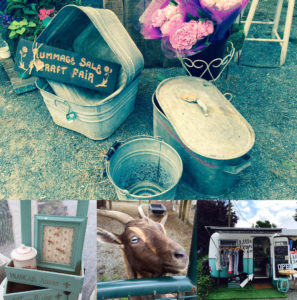 Repurposing the Past
From a practical point of view, adopting vintage items, rather than buying new ones makes a lot of sense. And I think that is primarily why Generation Y likes to go junking, engage in upcycling, etc. They see how much stuff there is and wonder if we really need to go on making more of it. As a 1980s kid, I remember this extreme consumerism at its height. From the huge gas-guzzling Oldsmobiles to shows like Dallas and Dynasty, the message to Gen-Xers like me was, "Make money and buy as much as you can!" Not surprisingly, this hasn't made us the happiest generation on the planet. Now approaching middle age, I think many Gen-Xers look back at the 80s and shake our heads. This new appreciation for all things old and the desire to make them functional in a modern world is definitely a more positive path.
The Nitty-Gritty
So, this is my first win of 2016! It's been a bit of a slow year for prizes so far, but again part of that is due to my own focus on career and school. It is difficult to estimate what this prize is worth. The other teacups and saucers being sold by the exhibitor were priced at $15, which seemed very reasonable to me, given that I saw prices going up to $100 online for the same cup and saucer I won. The tea infuser is a contemporary piece that is vintage-inspired and retails for about $15 as well in Australia. Consequently, I'm going to estimate this prize's value at $30. I hope to write again soon about another great win!